Bunny

Information
Full Name

Lauren Keller

Nickname(s)

"Bunny" is her stage name

Gender

Female

Date of Birth

January 8, 1998

Resides in

Missouri

Occupation

singer

School

Kenwick Elementary School

Family
Parents

Shannon Wood

Raymond Wood

Siblings

Aaron Wood

Production
First Episode

The Nutella Punks Arrival

Last Episode

TBA

Portrayed By

Lauren Wood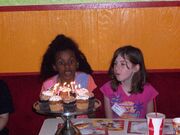 Bunny is the weirdest of the nutella punks group. Mackenzie said she had a band before that band called Sugar Rush and she thought it would be fair if she joined the band, so, she invited her here.
Personality
Edit
Bunny loves country. Country Music, The Country, anything where she can shake her boots! Nobody knows this, but she used to live in Missouri, but people have their suspicions...
The Nutella Punks Arrival
Relationships
Edit
Jessie think Bunny is even weirder than Nanna Banana! Bunny thinks Jessie just doesn't know how to have fun, butshe does't share that with her. She also thinks she is too mean to the kids, and that she should treat them better.
Bunny loves being part of the band, she thinks the girls are super fun, although she thinks Katie can be a little sensitive.
Since Julie moved into the Ross's house, Bunny has been a little annoyed by that. She thinks Jules is REALLY annoying.
Mackenzie and her have been besties since preschool, until she moved to India. But, then Macy moved to New York, and that's where she as moving, so they got united again.