"Dream Dancer"

Season 3, Episode 5

Information
Air Date

2013-2014

Production code

305

Writer(s)

Breanna1

Director

Breanna1

Episode Guide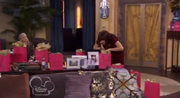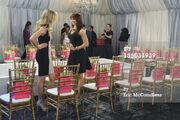 "
Dream Dancer
" is an episode of JESSIE. This is a a mini movie.
Christina Ross is making a competition for american dancers called "Dream Dancer". The dancers compete against each other to win $2,000,000. There is drama between Abby Lee Miller, Christina, and other moms. Christina tells Luke to compete, Luke does a tap solo called "The Prince", but he's embarrased. Maddie Ziegler won the $2,000,000.
Debby Ryan as Jessie Prescott
Peyton List as Emma Ross
Cameron Boyce as Luke Ross
Karan Brar as Ravi Ross
Skai Jackson as Zuri Ross
Kevin Chamberlin as Bertram Winkle
Breanna Keller as Lisa Morris
Jessie Parks as Mackenzie Willows
Isabella Palmieri as Katie March
Claire Engler as Skyler Jones
Christina Moore as Christina Ross
Jazmyn Bieber as Jasmine Ross
Jaxon Bieber as Jaxon Ross
Tyrel Jackson Williams as Theo
Guest Stars
Edit
Dancers in the competition
Edit
At the penthouse
Christina: Jessie, I am holding a dance contest for all dancers in the abby lee dance company
Jessie: Great is Maddie Ziegler in the contest she is my favorite.
Christina: Of course she is she's a national champion
Christina: I bet she's gonna win
Jessie: me too
Abby lee dance company
Abby: Listen up girls we have a very packed week so we need to get this pyramid done
Abby: On the bottom Nia, Paige, Kendall, and Brooke
Abby: Middle Mackenzie and Chloe
Abby : And on the Top Maddie
Abby: we are traveling to New York for a dance contest, you girls will be competing against each other.
Abby you will all have solos
Abby Maddie you will do two solos one lyrical called Cry and a tap one called you and me against the world
Abby Chloe you will do a contemporary solo called please
Abby Mackenzie you will have a jazz solo called reach for the stars
Abby Paige you will have a musical theatre solo called tongue twister
Abby Brooke you will have a acro solo called break me
Abby Kendall you will have a jazz solo called kiss kiss
Abby and Nia you will have a solo called Bollywood
Abby ok girls let's get started
Christina Luke you are going to do a solo called The Prince
Luke Why?
Christina Because I need someone to compete against the amazing Madison Nicole Ziegler.
Luke No way Maddie Ziegler is gonna compete
Christina Yeah of course she's amazing
Luke I have such a crush on her
Christina Well your gonna meet her so get ready
Luke runs to his room
All the girls from Dance Moms appear in this episode.