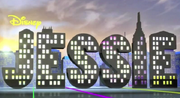 Jessie, Katie and Emma go to a Jessie J concert. However when the singer has nowhere to stay, Jessie lets her stay with them. But what will Jessie J do when Jessie leaves her to look after the kids while she goes out grocery shopping, and Bertram is sick?
Special guest star: Jessie J as Herself
Songs performed: "Domino" by Jessie J, "LaserLight" by Jessie J, "Price Tag" by Jessie J, "Who You Are" by Jessie J and "Rainbow" by Jessie J.