"Zuri Failed"

Season 4, Episode 6

Information
Air Date

March 3,2014

Production code

406

Writer(s)

Sammydiego

Episode Guide
Previous
Next
Zuri Failed 
is an upcoming episode of JESSIE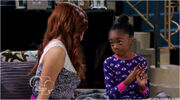 Zuri finds out she got all Fs for this semester, Emma breaks her own computer after her favorite show is cancelled.
This will air in march
Alexis appears in a video-chat
Ad blocker interference detected!
Wikia is a free-to-use site that makes money from advertising. We have a modified experience for viewers using ad blockers

Wikia is not accessible if you've made further modifications. Remove the custom ad blocker rule(s) and the page will load as expected.